Ebb and Flow Flood Tray Hydroponic System ebb/ flow rolling table/bench
Seedling Nursery Beds are the industry standard for propagating seedlings in a modern greenhouse. When Pots are filled with an inert medium which does not function directly like soil that contribute nutrition to the plants, but which as a temporary reserve of water and solvent mineral nutrients in the anchors the roots. The growing media is not fully submersed but is only partially saturated, allowing capillary action to hydrate the rest of the media to the very top.


Product name




Greenhouse ebb and flow rolling/fixed bench




Seedling tray




ABS tidal seedling tray,

UV protective




(Splicing tray)




table width




(2.33ft (0.711m); 3ft (0.914m); 4ft (1.22m); 5ft (1.53m); 5.5ft (1.7m); 5.83ft (1.78m)




we can do any length based on above width




Complete table size




2ftX4ft(0.61mX1.22m)




4ftX4ft(1.22mX1.22m)




5ftX11.15ft(1.53mX3.4m)




5.4ftX11.8ft(1.65mX3.6m)




4ft x 8ft(1.22mX2.44m)




5.5ft x 14.6ft(1.7mX4.45m)




Table height




standard is 70cm(can adjust 8-10cm), customized other height



Rolling range

Around 25-30cm from middle to each side


Product features




The frame is made of aluminum alloy, beautiful, light weight, corrosion resistance and high efficiency of greenhouse




Product accessories




It consists of

ABS tidal seedling tray

, rolling shaft, door frame, aluminum alloy frame, handwheel, horizontal support, diagonal pull rod and so on



The flood tray made of U.V. resistant, virgin ABS plastic cap over a 100% recycled ABS plastic core, 2mm Thickness, 8cm High. The life more than 12 years.

Rolling benches are designed to easily move to each side approximately 30cm, which increasing the growing space.

Anti-tilt device prevent the problem of inclination caused by emphasis.
The Ebb and Flow Rolling Bench for Seedling in Greenhouse can maximize plant growing and retail nursery space in your greenhouse.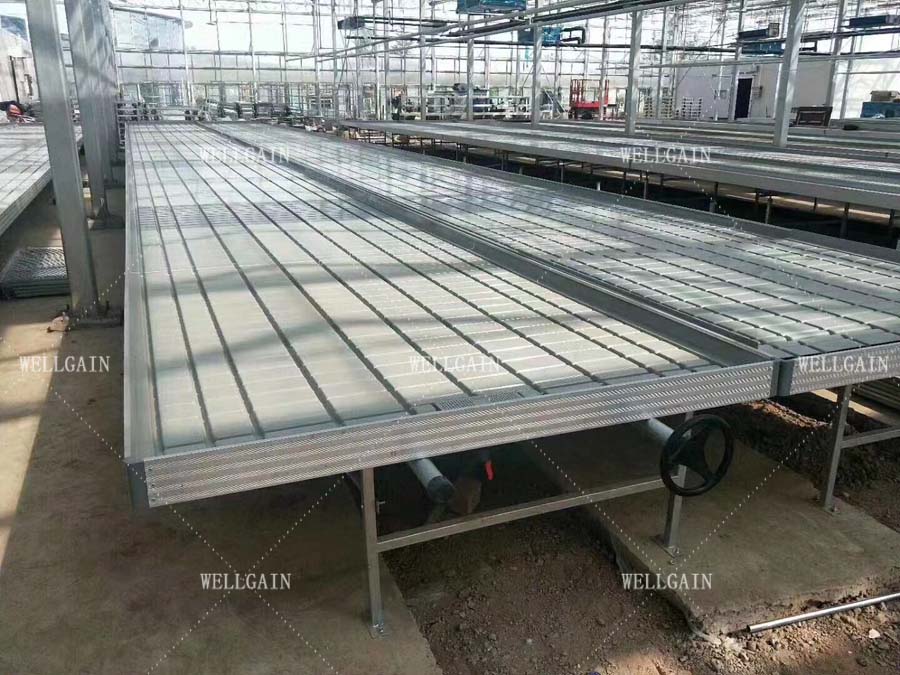 Contact Us

Xiamen Wellgain Greenhouse Engineering Co., Ltd.

Lisa Xu
Tel/Wechat : +8613859961959
Whatsapp :+8613859961959
Email : wellgain@wellgaingreenhouse.com
Skype : +8618106096168